Increase Conversions Using Bullet Points
Having a well-written and concise sales letter or opt-in page can raise conversions dramatically and using bullet points help marketers organize and present information more effectively.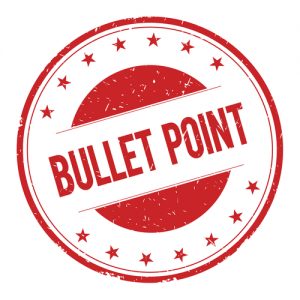 One of the experiments that we conducted was on our optin pages for a free report, which we were giving away as a lead magnet.
The information that listed the details of the ebook below the headline were originally presented in paragraph format. But when we changed these into bullet points, we saw a rise in conversions.
I suspected that this would happen because bullet points are effectively mini-headlines and when written like headlines, they can capture a user's attention much more.
Headlines tend to present a clear benefit and promise to the reader. According to Eugene Swartz (Breathrough Advertising), the only purpose of a headline is to get the reader to read the next line.
So not only will your bullet points create more curiousity (if written like headlines), it will cause your readers to continue reading the others almost automatically.
In fact, many copywriting courses will tell you that when writing a text sales letter, your bullet points are the second most important aspect of the entire letter.
Readers are pressed for time and bullet points help them scan for topics of interest.
Here are some ideas for testing bullet points:
Sales Letters
Optin Pages
Powerpoint Slides
Postcards
Blog Posts
But remember, bullet points should only highlight and emphasize key information. If you overdue it, it can have the opposite effect.